Welcome
"Nadat Avatar Roku overleed was de verbindende factor tussen de vier naties verdwenen. Al snel liepen de spanningen op. Vooral water en vuur, van oudsher elkaars tegenpolen, konden steeds minder van elkaar hebben. Het begon klein: Anti-water propaganda in de vuurnatie, een ban op bezoeken van vuurmeesters op de noordpool..."
Welkom op Untold Tales, een Nederlandstalige open-world RPG gebaseerd op de bekende Avatar: The Last Airbender serie. Dit forum speelt zich af in de tijd vlak voor de honderd jarige oorlog, en opent zo een mogelijkheid voor een geheel eigen plot en ontwikkeling van de wereld en diens karakters. Creëer je eigen karakter, sluit je aan bij een van de naties en ontdek deze net iets andere versie van de welbekende, nostalgische wereld van Avatar.
Event
Helaas is de korte periode van rust snel tot een eind gekomen. Tijdens een 'vredes' vergadering tussen de leiders van de vier naties heeft de vuurnatie de stad Gaoling in beslag genomen. Hoe zouden het aarderijk en diens inwoners hier op reageren? De meningen over de situatie zijn verdeeld, maar over een ding is men zo goed als zeker. Betekend dit het begin van een oorlog?

Posten in Gaoling is op dit moment op eigen risico. Ook zijn er kansen op random events in topics die zich daar afspelen. Ook dient iedere bewoner binnen te zijn voor zonsondergang!
Current Contest
Op dit moment vinden er geen contests plaats. Stay tuned!
✠ General information ✠
Full name:
Nao Ginmaru - 銀丸  直
Nickname:
Nana
Gender:
Female
Age:
19 years old
Birthday:
28-12
Zodiac:
Capricorn
Sexuality:
Homosexual
Relationship status:
Single
Mother:
Mrs. Ginmaru
Father:
Mr. Ginmaru
Siblings:
A few
Home:
Omashu & Kyoshi Island
Place of birth:
Omashu
Occupation:
Kyoshi Warrior
✠ Weapons ✠
Main weapon:
Naginata
Side weapon(s):
Kama's
Class:
D
Information:
From a young age Nao had shown intrest in weapon usage. When she was six years old she started training with a naginata. This was considered a weapon for 'females only' so it would remain femine enough. Nao showed great talent like her mother had as well. She took a liking to the weapon and kept training with it. It was only after she joined the Kyoshi Warriors that she picked up kama's as well.
✠ Appearance ✠
Height:
1.62 m
Body type:
Slim
Skin tone:
Medium beige
Hair color:
Black
Hair length:
Chin length
Hair texture:
Straight
Eye color:
Dark brown/black
Scars:
None
Tattoo's:
None
✠ History ✠
Nao was born as the second child of the current main branch of the Ginmaru family. Since her older brother would become the family heir, she would become a very intresting bride for other rich families. There was always pressure, she had to be a neat little noble lady. She behaved, followed all the rules, took all the lessons. However this always seemed like an obligation. She never took liking to any of these chique things. She always remained the same noble lady to the outside world. Nao knew very well that she could not bring her family to shame. That didn't mean she wouldn't behave as she liked outside of the world's view. As she grew older she found out that her mother used to be a Kyoshi Warrior. Which led her to aspire to be the same. After a lot of begging her parents allowed her to pick up a weapon. It would be 'safe' since she wasn't born an earthbender. She didn't get to pick her own weapon, it had to be ladylike and have some range; it became a naginata. At first Nao didn't agree with her parents's weapon choice, however after training with the weapon for a while she took a liking to it. She tokok lessons from the best naginata wielders of the Earth Kingdom. She wasn't allowed to show her skill with her weapon to the public and had to participate in all sorts of social events. Her parents also made her take care of a Fire ferret which was concidered cute. Nao gave the animal the name Netsu but decided to teach it some other things than just being cute. When she became eightteen years old she was supposed to start looking for a rich husband. Nao had discovered that she didn't have any kind of attraction to men but prefered women instead. She could not bear to tell this to her family so she decided to avoid the issue. And that by joining the Kyoshi Warriors so she could leave the walls of Omashu with a 'valid reason'. There she learned to fight in a slightly different way than she was used to and picked up Kama's since she was curious to closer ranged weapons as well.
✠ Animal ✠
Name:
Netsu - 熱
Species:
Fire ferret
Gender:
Male
Age:
2 years old
Appearance:
Fire ferret with a small silver chain around his neck.
●●●●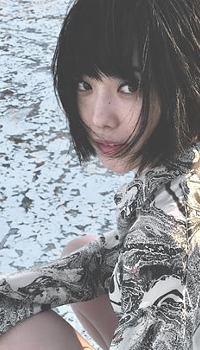 Real name :
Anouk
IC posts

:
18
Character sheet
Age
:
19 years old
Occupation
:
Kyoshi Warrior
Residence
:
Omashu/Kyoshi Island

Kyoshi Warrior
Geaccepteerd!
Welkom in de RPG!

''We have calcium in our bones, iron in our veins
carbon in our souls, and nitrogen in our brains
93 percent stardust, with souls made of flames
we are all just stars that have people names''
---
Permissies van dit forum:
Je
mag geen
reacties plaatsen in dit subforum